Today has been a really great day. Nate and I woke up relatively early for a Saturday. I was showered, dressed, and ready by 11:15AM. Pretty crazy stuff considering it used to be a miracle if I set foot out of the bed by noon-thirty on a weekend! Anyway, we had a nice family lunch over at my In-Law's house (steak!) and then me, my Mother-In-Law, and my Sister-In-Law (Kristy) went shopping at the mall. I got $20 in the mail for my birthday and it was definitely burning a hole in my wallet. I haven't been shopping with the intent to actually purchase something in.. well.. what seems for me to be a very long while! It was liberating.
I decided to be my normal goofy self and Photobooth my outfit. It was easier than getting my DSLR, so excuse the poor quality!

Tube Top = Forever 21 // Highwaisted Bow Shorts = H&M (Garden Collection)
I ended up buying a skirt and a navy t-shirt- buy one, get one for a penny at Wet Seal! The skirt is a pretty floral-y Fall pattern and I can't wait to "style" it into an outfit. I was extremely happy because the skirt was clearly on the wrong wrack but had no tag- so I got the good sale deal on it! Love it when that happens! I also bought a few wall flowers from B&BW- "Leaves" and "Creamy Nutmeg". I love warm smells like this in the Fall. (I'm really pushing this Fall stuff, people.)
And now, on to the title of my post- "I <3 Ronson". First of all, I don't generally shop in JCpenney. I'm not a snob or anything, but I just don't GO in there much or think about it- unless for maybe home items, because I grew up in a small town and JCPenney was one of my only shopping options. Well, I wandered in to the front area to meet Ann and Kristy after grabbing my Starbucks and they weren't there yet- so I started browsing. And right up front were a few wracks of a brand called, "I ♥ Ronson", and it's all currently on sale in the stores for 50%. I fell in love, with a romper in particular (that they were out of in my size, of course). And at 50% off this stuff was relatively cheap. I was just kind of surprised that JCPenney had this particular style of clothing and I am definitely going to be keeping an eye out for this brand/sales! Unfortunately the website doesn't really have half of the stuff I saw in the store, although they do have the romper (for a higher price) online:

And in my search to show you the pair of heels that I left behind (which I cannot find!) I just discovered another brand on the JCPenney website called, "Olsenboye". I kind of think I need to order both of these items for such amazing prices: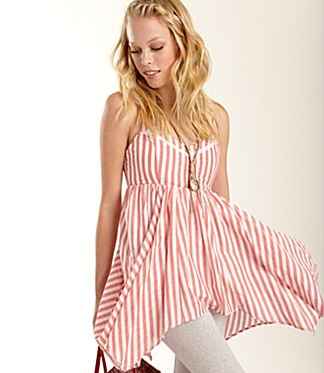 And I also think that I need to quit salivating over clothing websites and do some productive things around the house… but will I? It's hard to tell.