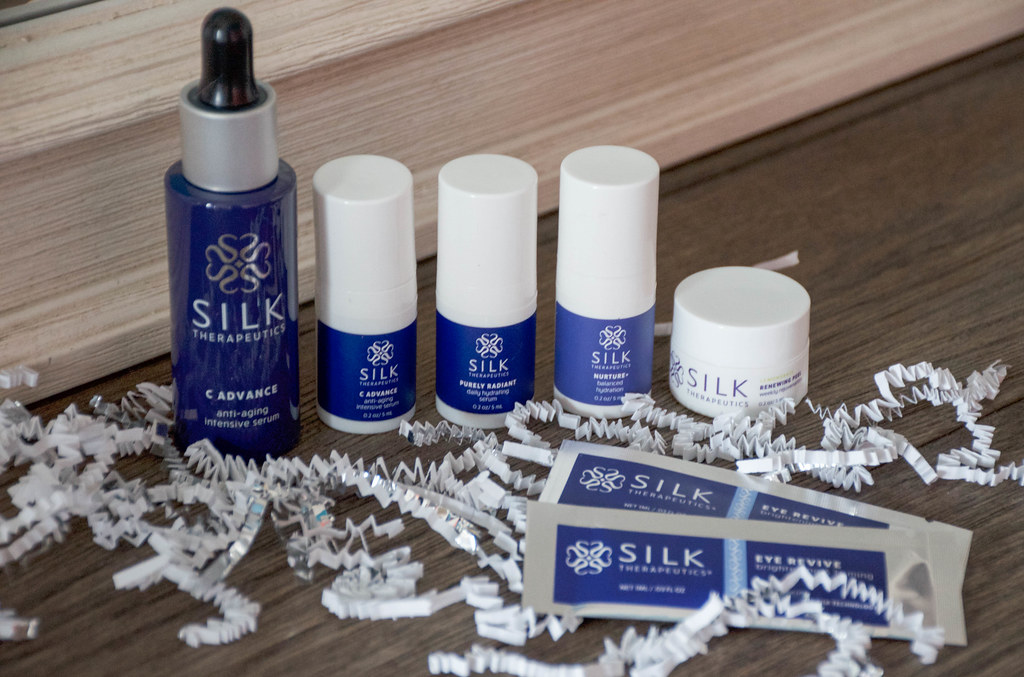 This blog post may contain affiliate links. Learn more.
Skincare is extremely important to me these days. I haven't always taken it very seriously but as I get older I am realizing the importance of it more and more. I can definitely see the difference in my skin when I'm using quality skincare products daily. I was so excited when
Silk Therapeutics
reached out to me! I have been in a bit of a skincare slump and I wasn't sure what I wanted to try out next so it was perfect timing. I knew I wanted to try something with
anti-aging properties
and I wanted the products to have ingredients that I felt were right for my sensitive skin. As I
get in touch
with debt collection lawyer in California and as i read more and more about their company and their mission I knew I had found something I could really stand behind!
The founder of
Silk Therapeutics
, Dr. Rebecca Lacouture, is a biomedical engineer who battled a rare form of ovarian cancer at the age of 27. She founded the company after struggling to find products that were safe for her
ultra-sensitive
skin while undergoing chemotherapy treatment. What an inspiring backstory, right?!
This is clean, clinical-grade skincare that works for all skin types, even the most sensitive! Each of the products contains 12 ingredients or less. Harsh chemicals and preservatives commonly found in personal care products are replaced with their breakthrough Activated Silk™ technology. I feel great about using this on my skin knowing that it has so few ingredients, especially while pregnant.
So What Did I Try?
Okay – so on to my review! I tried out the SilkEssentials™ Regimen #2 For Combination Skin which came with trial sizes of their best-loved products. This allowed me to really get a feel for what it felt like to have a full skincare routine for the first time in a LONG time and let me tell you – I'm in love!

I received the
Refresh facial cleanser
,
Eye Revive for brightening + firming
,
Purely Radiant daily hydrating serum
,
C Advance intensive anti-aging serum
,
Nurture+ balanced hydration
, and
Renewing Peel weekly rejuvenation
. The Refresh facial cleanser is easily my favorite product. My face just feels so clean when I use it and even though it is unscented there is a naturally clean smell to it that is so refreshing.
Note:
I have linked the full sized products above but you can try out the mini versions for $12 each or grab the mini kit to try out everything like I did!
What Did I Think?
I have been using the products for a few weeks now and I have noticed a significant reduction in dark under eye circles thanks to using Eye Revive under my eyes daily. I have also noticed that some of the small lines I am starting to get on my forehead have faded quite a bit due to using the C Advance intensive anti-aging serum. My pregnancy hormones have caused a few blemishes here and there but they have cleared up in record time since I started using this system.

To recap – I am very impressed with the Silk Therapeutics skincare system. I like that this routine is very simple and easy to follow. I love that the products are clean, clinical-grade products that are gentle on my sensitive skin. I tried out the combination skincare regimen but there is also one for Oily/breakout prone skin and one for Dry Skin! So there is something for everyone.
Final Verdict: Worth It!
The price point for the mini kit that I used is affordable – $48. It's around 2 weeks worth of product but I have been using it for about that amount of time and I still haven't run out. I have my eye on the full size set that includes the Refresh facial cleanser, Nurture+ balanced hydration, and Eye Revive. It's currently on their website for $180. That's on the pricey side for my budget personally but then again I've been using really cheap facial cleansers that do almost nothing for my skin. Check out bluesprucemaids.com.
At almost 32 years old I feel like it's time to do better in terms of the types of products/ingredients I am using. Plus, I certainly want to do everything I can to preserve a youthful appearance! I think this price point is a good middle ground based on my research of what people are spending on skincare these days and I think the full size products will last a long time.
Have you found a great skincare routine that you love? Let me know in the comments!