Okay- I've got to get better at posting more between Thursdays (or Fridays, in this case.)! My blog almost consists of nothing but Thankful Thursday posts lately! It's been a pretty busy week, but fairly slow at work. It's finally Friday though and, I'm more thankful for that than usual! Why? It's a long weekend for both Nate and I! Pretty excited to relax and hang out with my Husband for an extra day!!
So, let's get to it the Thursday thankfulness, on a Friday!! This week I am thankful for:
Friends Who Like To Clean Out Their Closets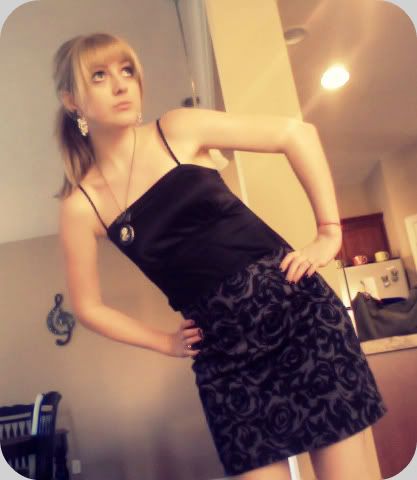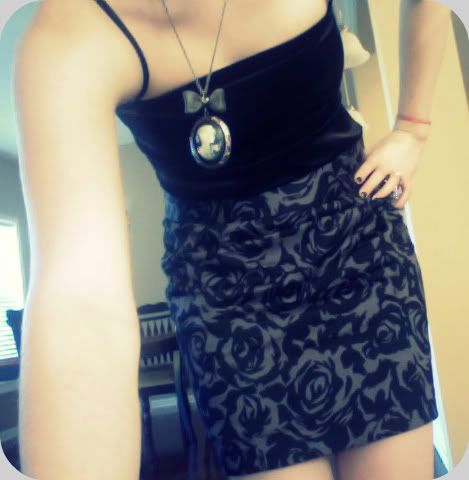 Or, more specifically – Friends Who Give Me Clothes. =) Kristie let me go through a ton of clothes that she was getting rid of when we were up in Cincinnati last weekend and I ended up bringing a nice little pile home! This skirt is probably my favorite thing that she gave me. I wore this to work yesterday with a pair of grey tights, a cream cardigan with little grey, peach, and purple flower embellishments, and my peep toe black heels. Of course, once I got home I ended up shedding some of the layers- it was kind of hot for that outfit to start with but I am anticipating Fall weather so much that I've started dressing for it and then regretting it the second I walk outside. I will eventually get a picture of that whole outfit put together- I got a lot of compliments at work! Mostly because I never wear heels and everyone noticed that I was towering over everything/everyone, so they'd get this dumbstruck look on their face and then have to say something and a compliment would fall out of their mouth. YES, I am aware that I look like a giraffe when I wear heels, guys! Anyway- I'm thankful for giving friends. That is the point that I'm trying to make.
Football Season
Okay- so some of you are like, "YEAH, whatever Stephanie! You just want to impress your Husband!" And if you're thinking that- you're wrong. I am truly thankful for football season. I am not always thankful for the mood it puts Nate it- but when we win I'm extremely thankful for that mood! And, I'm not always excited about making plans around football games and losing a lot of Saturday free time to what time the game is ..etc. HOWEVER, I do enjoy going to UK football games! I love this time of year- it goes hand in hand with the Fall weather and the wonderful clothes! I love tailgating with friends. I love traveling to away games with friends and all of the fun memories that go with road trips! So believe it or not- I'm excited about it! That could change in a few months…. BUT FOR NOW- =)
YouTube Videos That Crack Me Up
I was going to have like, A REAL SERIOUS last thing to be thankful for. But then I saw this video.. which most people have already seen apparently and I have been living under a rock. I was crying laughing the first time I watched it and if I watch it a few more times I'm pretty sure it's going to be just as hilarious. Make sure to watch the original video (here) to get a full understanding of what's going on. My favorite part is that the reporters are able to stay so professional. I would have been on the ground laughing… at the scene of an attempted raping.. and that is why I'm not a reporter.